Hong Kong's Hang Seng Index: The Conduit to Wealth
Key to creating wealth: "Selection is more important than exertion." 
Do keep in mind that investment is definitely not a game of luck, it is 70% on the choice, 20% on the efforts and only 10% on luck.
Selecting an advantageous investment software is the key to creating your wealth.
In trading Futures market, there is a high frequency of fluctuations. It is therefore necessary to know the Futures market's movements in advance, in order to capitalize on the profits.
Minor recommendation adjustment:
Technical analysis has been in existence for over 50 years and most of investors are already familiar with the general application method. Since everyone is applying the same method to invest, the application method is no more effective and out of date.
Support and resistance lines are no longer a good method, yet many are still using it as if they have no other choices!
Look at the chart below: Hong Kong's Hang Seng Index HSI
INSIDERS software, using the most advanced technology OLA, can point out the high and low points of stocks. (Thus, you do not need to draw the lines).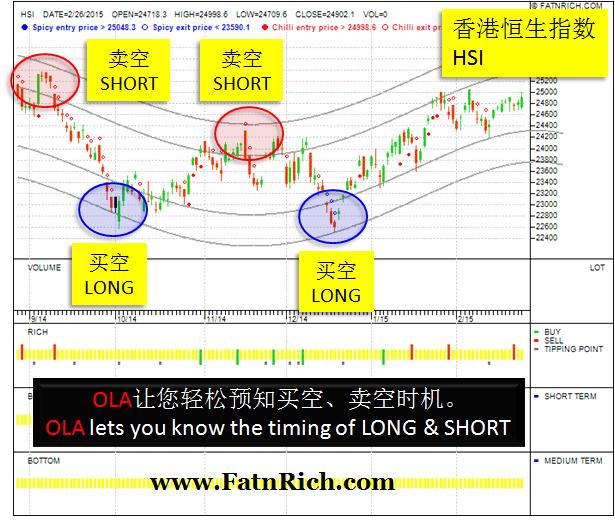 After viewing at the chart shown, don't you think investing in Futures is very easy to understand?
INSIDERS is simple and easy. With INSIDERS you can learn to invest without the need of a high educational background.
Therefore, choosing the right and excellent investment software is important rather than using your blind directions and efforts.
With the availability of new software, are you still sticking to obsolete methodology?
As a simple analogy,  before or during Chinese New Year, are you using WhatsApps to greet each other or traditional method of sending cards?
Therefore it is pertinent that we have to be in tune with current technology. In investment, we have INSIDERS software tool to assist, so why don't you subscribe to it?
If there is any inquiry on Stocks/Shares, Futures, Commodities and Forex,  kindly email us at support@fatnrich.com